How To Have A Birthday Party Absolutely Everyone Will Love!
"My daughter loved it! It was a very entertaining show. All the kids were talking about it on Sunday at a different birthday party. Thank you very much for making her birthday party a memorable one."

Jason W. (Cedarburg)
Dear Friend, Memories from a child's Birthday party, are like magic! And I want to help make those memories bring a smile to you and your child's face for years to come! That's what this show is designed to do. Because, after all, a Birthday is all about one thing.

Fun!!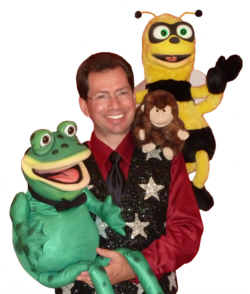 "Just wanted to follow up with you and say thank you very much for coming to Petra's birthday party - I thought it was fabulous!"

Janet LT
West Allis, WI
"...Jake said, it was best birthday party in his life."

Aleks Y. (Father of birthday child)
Mequon, WI
"Thank you for putting on such a great show. Nina and all of her friends had a wonderful time. I was amazed at how easily you captured (and kept) the attention of 14 energetic 6 year olds! Several parents have already emailed me to let me know that their kids are still talking about the magic show."
Kari Barnes
Watertown, WI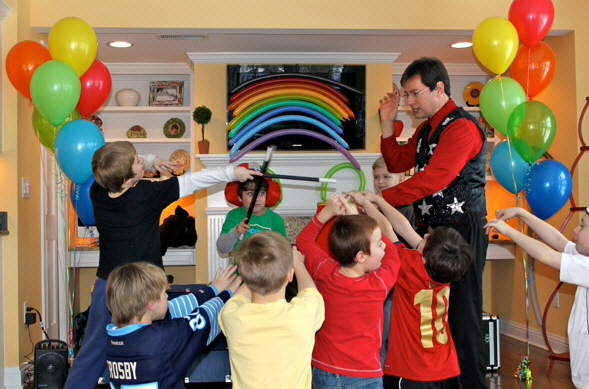 ---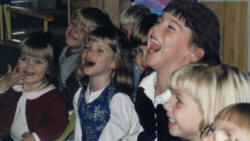 Find Out How to Have Your Child's Next Birthday Party Rock with Laughter, Fun, and Entertainment Everyone Will Love!
---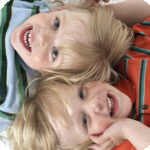 "Very entertaining. Even Grandpa liked the show."
Jessica G
Elkhorn, WI
"The Children loved all of it . . .an A+. Very 'kid friendly' "

Jennifer H. (Mother of birthday child)
Mukwonago, WI
"The show was wonderful, the kids (and adults) had a great time! Great Scott has a talent for relating to kids of all ages."
Kris Minko
Sun Prairie, WI
"We all (children and adults) enjoyed the show very much. [Scott] kept the children's attention, and he was very enthusiastic and fun!! Great Job!! [I most enjoyed] the way he played off of the kids reactions. It was great to see that the kids could be goofy and sometimes even loud and it only made the show more enjoyable... =)"

Nikki Balmer
Menomenee Falls, WI
"Thank you so much for entertaining at Theo's Birthday party on Saturday. The kids were so happy, and your humor and magic were incredibly age appropriate - for the 4 year olds, the adults and the grandparents in attendance! Everyone truly had a magical time. Thank you, thank you. We will pass your name to anyone interested in a great magical celebration."
Lisa B.
Whitefish Bay, WI
Creating A Memorable Experience for Your Child
My name is Scott Obermann, and I absolutely love bringing fun-filled entertainment to children and families. How do I do that? I combine Magic, Music, Puppets, and Comedy into a show that makes kids oooh, aaaah, smile wide and laugh out loud with delight.

"Absolutely great--and impressive that you held the children's attention & made them laugh! "

Mellisa Blaschka.
Whitefish Bay
"The program you had for the kids was a big hit!! We absolutely loved it. Those surprising facial expressions on the kids face when you did your magic tricks.....PRICELESS!!!! I can't thank you enough for the wonderful memories you have given our family."

Marianne Krueger
Lodi, WI
"The program you had for the kids was a big hit!! We absolutely loved it. Those surprising facial expressions on the kids face when you did your magic tricks.....PRICELESS!!!! I can't thank you enough for the wonderful memories you have given our family."

Marianne Krueger
Lodi, WI
This is the second year in a row that we have had Great Scott to our house for my daughters birthday party. She loved it so much the first time that she wanted Great Scott to perform again. Great Scott does a great job of entertaining the kids, keeping them engaged and really letting them have fun. If you are looking for someone that can keep a bunch of 5-6 year olds all in one spot for an entire hour this is your Magician!

Jack Riesch
Waukesha, WI
Choose from 3 magic shows (Bronze, Silver, or Gold) all filled with Comedy, Magic and lots of audience participation.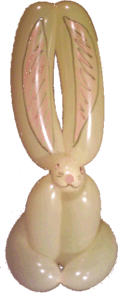 As the magic and fun begin, your son or daughter becomes the STAR. He or she will be help during several tricks. Imagine the look of glee on your child's face when the magic happens . . . in their own hand -- That's a picture-perfect moment you won't want to miss. And if any of the birthday magic should happen to fail (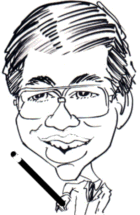 wink, wink), rest assured your child will be prepared to save the day. Everyone gets to be part of the fun though. There's humor that tickles their funnybone and magic that wows everyone in the room. Plus, with the top package, all the children get a special balloon sculpture made for them. Of course the birthday child gets an arm-load of super-fun, twisty balloon animals, hats and other crazy-good balloons. Bring on the smiling children! Plus you'll meet Charlie (the magic rabbit puppet) or Max (he's a monkey puppet). They're a ton of fun for children and adults. Their appearance caps the show and has been known to make kids roll on the floor with laughter.
Scott Will Travel to You
Invite Scott to your party anywhere in Southern Wisconsin or the Northern psrts of Illinois. Yes, this performer travels around, so call to see what dates are available.
"The kids had a great time and you did an awesome job!!! We sure appreciate that you were willing to come that far. We have a magician locally who I did not think would be as good with kids and I was right!! "

C Shields
Illinois
The Easy, Hassle-free Way to Have a Memorable and Magical Birthday for Your Child
Scott brings the entertainment to YOU! Have the party at your home and don't be intimidated by a large number of children. Scott will keep them entertained for a good portion of the party. Then have cake and sing Happy Birthday. Open presents, play a game or two, and the party is complete. And if you need ideas for fun games, Scott can provide you with plenty of great ideas too. What could be simpler?
Family Friendly Entertainment
As always, each show is filled with fun entertainment the whole family can enjoy. That's important. Children need good, clean entertainment.
"As parents, Kevin and I really appreciated the clean humor that was very much geared towards the kids, and family-friendly."

Michelle Prudlow
Brookfield
What more could a parent ask for? Well, how about this -- After the magic show, your child will hug you and say, "Thank's for the magic show, Mom!"

If you want to know more about how to have magician, Great Scott perform at your child's birthday party, or if you're ready to reserve a time, call and ask. When Great Scott talk's with you on the phone, he'll explain more about the magic shows and discuss with you the right option to help make this birthday party the successfully-fun event you desire. And he delivers his birthday magic anywhere in Southeastern Wisconsin or Northern Illinois. That's Madison to North of Milwaukee, Rockford to Chicago. Voted Best Party Entertainer by Nickelodeon's ParentsConnect.com based on reviews like this: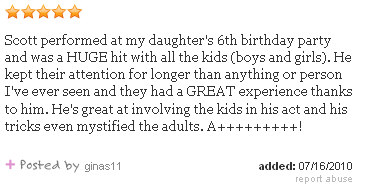 Will You Recommend Great Scott?
"Thank you so much for a wonderful performance! The kids loved it. I will definitely share your website and spread the word - great fun entertainment!

Anne W. -- Pewaukee
"I just wanted to send a message Scott and thank you again for the show on Saturday. Everyone I talked to loved it and Jossie loved being your assistant! If I hear of anyone interested in a magician I will for sure send them your way!

D. Holt -- Genesee, WI
What's the Cost?
With a variety of packages to choose from, Scott has something for most every budget. But don't let price determine who will perform for your child's birthday. Enterainment value is what's really important to you! If you want high-flying fun, loads of laughs and magnificent magic for your child on his or her birthday, then you really need to call Scott -- NOW!
"I'm Interested," you say. "How do I find out more?"
Go to the Contact Us page, and fill out the email form. Or, better yet, CALL US at 262-364-6524 P.S As you might guess, weekends are the busiest times for birthdays. I keep a busy schedule performing at events each month, and my calendar can fill up weeks in advance. So don't risk disappointing your child. Call me at 262-364-6524 and I can answer any questions you still have. And maybe you can check another MAJOR item off your to-do list! But even if its late, it doesn't hurt to call. sometimes circumstances allow me to have time available.

"Thanks again for being able to make it on short notice. Your performance was great."

Barry Brookes -- Franklin
Since you're still planning your child's birthday party, here are a couple of resources for you: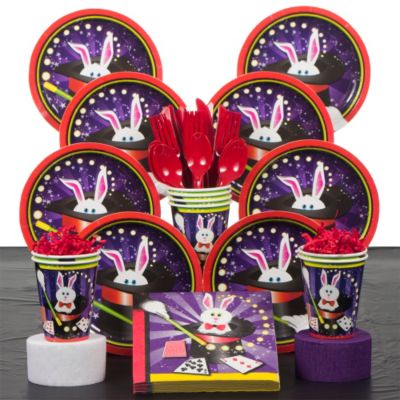 For a Magical Themed Birthday Party you might want plates, cups, napkins, tablecovers, balloons and more. Go here and find a great party decoration package. You'll also want a copy of my "Great Ideas for Birthday Parties" Planning Guide. 12 pages of wonderful tips, games, and treat recipes designed to make your party planning a breeze. Great Ideas to Make Your Next Birthday Party Sizzle -- Absolutely FREE! That's right, it's my gift to you. Just call or email me and request a copy. Great Scott bringing the birthday party to all in the Milwaukee area or anywhere in Southern Wisconsin and Northern Illinois.
Still On the Fence?
OK . . .Here are some more parent comments.
"Wonderful entertainment perfectly suited for the age of the kids!"

Sarah B.
Hartland
Birthday Party Magician travels to cities in the following areas Milwaukee, Madison, McHenry, Crystal lake, Lake Forest, Waukegan, Racine, Oak Creek, Mequon,
"We all felt the show far exceeded expectations. You were able to captivate 31 seven year old boys!!"

Karrie & Jeff A.
Mequon
Wisconsin Birthday Magician
"The show was very fun and exciting for the kids and adults!
I really enjoyed how kids were part of the show as assistants "

Diana S.
Fox Point
"I felt the show was wonderful. The kids enjoyed the presentation, it held their attention. I enjoyed how much you clearly enjoy doing what you do. I believe that is why the kids like the show so much."

Rachael Marks
Mequon, WI
"The kids had a great time. You did a wonderful job entertaining them. Thank you so much!"

Amy Wolf
Delafield
Racine Birthday Magician
"Very entertaining. Even Grandpa liked the show."

Jessica G

Elkhorn
Illinois Children's Party Magician
"Thank you so much. . .We'll be calling you again for our son's birthday"

Cory
(Father of birthday girl)
Milwaukee
Kenosha Birthday Magician
What did you like most about Great Scott's program? "All of it!" The show rated a 10

Carrie S.
(Thrilled Mom)
Bayside
"Excellent job - Well organized. Relates well with the kids. Made the birthday girl feel so special. - great Job!!"

Kathy Axtell McBride

Bayside
Madison Birthday Magician
"Thank you once again for a great show. Everyone enjoyed your performence and appreciated your kind disposition."

Siamak Arassi
Brookfield
"We all just wanted to say you did a great job. All the kids had a great time. Thank you."

Anjoo Gharia
Brookfield
Milwaukee Birthday Magician
"I just wanted to say thank you again for your wonderful performance. The kids absolutely loved it."

Julie Kohler"
Hartford, WI
Waukesha Birthday Magician
"Thanks again for the great time, everyone really enjoyed it! "

Jack Riesch"
Waukesha, WI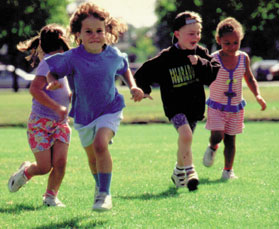 Hurry up. Great Scott's Going To Be At The Party!

262-364-6524
Call Great Scott TODAY!